CELEBRITY NEWS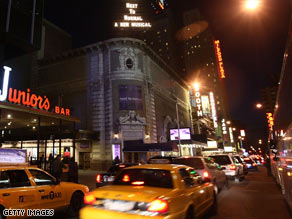 NEW YORK (CNN) — Broadway dimmed its lights Thursday night to honor actress Natasha Richardson, who died after suffering a brain injury while skiing at a Canadian resort.
Richardson, a film star, Tony-winning stage actress and member of the legendary Redgrave acting family — died in a New York hospital after she fell down a ski slope Monday in Quebec.    (Click on 'Continue Reading' for more)
_____
The ceremony was attended by dozens, including her husband, actor Liam Neeson, CNN affiliate WABC reported. Mourners tearfully hugged in the dark as the marquee lights went off for one minute at 8 p.m., according to WABC.
The British star comes from a long line of performers. Her mother, Vanessa Redgrave, is an Oscar-winning actress, and her father, the late Tony Richardson, directed films such as "Look Back in Anger" and the Oscar-winning "Tom Jones."
Richardson won a Tony for her performance as Sally Bowles in the 1998 revival of "Cabaret" and earned rave reviews for her role as Blanche DuBois in a 2005 production of "A Streetcar Named Desire."
Celebrities remembered Richardson as warm and talented.
"Natasha was a great actress, a fantastic mother, a loving wife and a whirlwind of energy, with an infectious love of life," actress Helen Mirren said in a statement. "I hope that Liam and her sons are helped in their pain by the great love and sympathy that is coming to them."
Richardson and Neeson have two children, Michael, 13, and Daniel,12.
Actress Meryl Streep described Richardson as the "sun in the center of a large constellation of family," adding that "her legacy is the love that connects us all."
Meanwhile, new questions were raised Thursday about the medical attention Richardson received immediately after her fall.
Paramedics dispatched to the ski slope were turned away before they could check on her, the ambulance service director told a Canadian newspaper.
Yves Coderre, operations director for Ambulances Radisson, told Toronto newspaper The Globe and Mail on Wednesday that his company sent an ambulance to the slopes at Mont Tremblant Ski Resort after a call from ski patrollers.
"They never saw the patient," Coderre said. "So they turned around."
Coderre did not say who sent the ambulance away. Efforts by CNN to reach him have been unsuccessful.
The resort declined to comment on the report about the ambulance service "out of respect for the family," a spokeswoman said.
The resort's statement said Richardson returned to her hotel accompanied by her instructor, but started feeling unwell about an hour after the fall.
Another ambulance was later called to Richardson's hotel, where paramedics found her conscious but she "wasn't in good shape," Coderre said.
Richardson was taken to a local hospital before being transferred to Hopital du Sacre-Coeur in Montreal. She was later moved to Lenox Hill Hospital in New York City.
The medical examiner's office ruled the death was accidental, caused by "epidural hematoma due to blunt impact to the head."
___________________________
Tags: broadway, liam neeson, lynn redgrave, natasha richardson